Today it is ubiquitous with social media – "that little blue bird" logo for Twitter.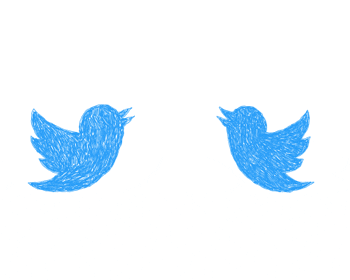 It has a history and it's told here in another interesting edition of The Story Behind the Brand as told by the New York Times Who Made That.
Tweet Tweet!
"Twitter is the bird, the bird is Twitter," the social networking company's former creative director, Doug Bowman, said in a 2012 announcement about the latest redesign of the Twitter logo. Its slightly goofier predecessor had a tufted head and was sometimes accompanied by the company name; Bowman's new bird was a sleeker update. Resembling a mountain bluebird with a dash of hummingbird thrown in, the Twitter bird has a beak and body that point toward the sky in what Bowman called "the ultimate representation of freedom, hope and limitless possibility." Unlike previous iterations since the company's 2006 launch, all of which were named "Larry the Bird" after the Boston Celtics legend, the current logo is known simply as the Twitter Bird.
The original Larry, to which the present icon bears little resemblance, was created by Simon Oxley, a British graphic designer who has since produced many mascots for online companies. The blue bird was just one illustration he offered for sale on the iStock website in 2006, where someone at Twitter bought it for about $15 (you can still download a variation of it for the bargain price of $11). As early adopters of the platform may recall, Oxley's bird is a slender, serene fellow, adorned only by a stylized eye and perched on a branch that splits off into an elegant Japanese-­influenced gathering of curlicues.
When Twitter selected his design, Oxley wasn't even aware of the company's existence. "I seem to recall a friend sending me an email telling me," he says now. "It was fun to witness more and more sightings and see CNN and the BBC mentioning it with images of my bird alongside the story." But because companies aren't permitted to use iStock images as official logos, Twitter soon left Oxley's bird behind. Biz Stone, a company founder, came up with the initial design for the first in-house bird logo, fine-tuning it by 2009 with the help of Philip Pascuzzo, a designer. A year later, they created yet another version of the logo — its cartoonish features silhouetted away — which was eventually further streamlined by Bowman into its current form.
As for Oxley, though his bird is no longer in wide circulation, he expresses only pleasure at having been a part of tech-start-up history — and he remains a loyal fan of the species. "I do like birds, very much," he says. "I grew up in the English countryside, surrounded by them. Dawn chorus begins each morning at 4 a.m." Tweet, tweet